Ryerson University is one of the leading university in the field of innovative education in Canada, with a focus on career-oriented activities. Located in the heart of Toronto, Ryerson University has a system of modern facilities, peaceful green spaces and comfortable dormitories.
I. SCHOOL OVERVIEW
1. General information
Ryerson University founded in 1948, is a public research university based in Toronto, Ontario, Canada. Located right in a busy, bustling area – the multicultural city of Toronto, Ontario province is Ryerson University is built on a campus of about 8.5 hectares with massive and large buildings, divided. into many buildings such as: Raymond Chang, Ker Hall, SHE building, Engineering building,…. Ryerson is currently a member of the Ontario Council on Graduate Studies (OCGS), the Canadian Association for Graduate Studies (CAGS), the Council of Graduate Schools, United States (CGS).
Ryerson College is named after Ontario's first Director of Education, Egerton Ryerson, originated as a post-secondary institution designed to combine technical education with academic theory. Since its inception until now, Ryerson has always been considered as a training school for the community because the school's programs often apply from practical knowledge, derived from practical needs to meet the source. human resources for society
Ryerson has always focused on creating a culture of action, education and experience that go hand in hand. What students learn in the classroom is enhanced by practical knowledge through practice and collaboration. Besides, the school is also quite famous for Design training beside business related disciplines.
2. Facilities & student support
Campus is located in the busy and convenient city center of Toronto. Ryerson currently has 45,000 students from 146 countries around the world. The International Student Support Advisory Group will assist students with immigration, health insurance and community development issues, while also ensuring students are comfortable and achieve academic success. as in my personal life during the course of study. Ryerson is extremely proud of his support for students throughout their university journey.
There are many opportunities for students to mingle and complement our memorable educational experiences at Ryerson. The comprehensive orientation events help students become familiar with their surroundings and settle into life before starting their course in September. You can join one or more of the more than 70 student groups, Entertainment programs, support for Ryerson Rams sports teams, take advantage of wellness and welfare services, visit a career center and contribute to a number of on-campus media.
II. Why should you choose to study abroad at RYERSON UNIVERSITY?
1. Having invested in quite modern and quite modern facilities and high quality teaching staff, the training quality of the school is extremely impressive.
Ranked 700 in the world
Top 25 in Canada
In 2009, the school ranked second on the first choice of high school graduates applying to university in Ontario Ryerson.
2. Career-oriented and applied curriculum
The Co-Op (work-study) program allows students to gain work experience in fields such as business, science, and engineering before graduation. All co-op jobs are paid, with terms of study and work integrated into the student's training program to help support learners after graduation.
Professional internships are an opportunity for students to work in an environment associated with a specialized field. For example, nursing students can work in a hospital or clinic. Some Ryerson programs also integrate the internship program into the curriculum.
Ryerson International Department helps students participate in exchange courses, attend international seminars or a comprehensive internship abroad. Students will acquire cross-cultural skills and build a global network.
3. Competitive tuition fees and favorable admission conditions
Tuition fees: 27,000 – 36,000 (depending on industry)
Enrollment fee: 156 CAD
4. International students are well received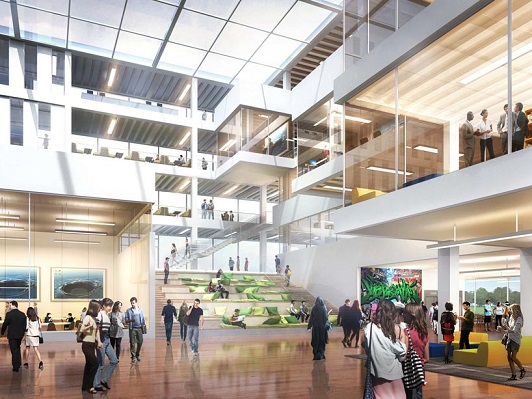 The faculty and staff at Ryerson are always friendly and ready to help students, especially international students. In addition, Ryerson University has more than 70 groups of students based on society, culture, religion and interests and other supporting organizations such as:
International Student Assistance (ISS)
ISS supports international students by offering personalized help, orientation programs, information sessions and networking events on topics such as immigration assistance and inclusion in living in Canada.
Student Learning Support (SLS)
SLS is a group of programs and services that aim to help students participate more effectively in learning through the teaching of essential study skills and techniques.
The Tri-Mentoring Program
The Tri-Mentoring program offers all students the opportunity to mentor and mentor. The program combines first year students with upperclassmen with the same curriculum or interests, to help prospective students successfully transition into first year at Ryerson.
Student Development and Counseling Center (CSDC)
CSDC provides free, confidential student counseling services in a professional and friendly environment. The services, programs, and resources that support students not only address immediate problems, but also define their personal, educational, and professional goals.
Ryerson Medical Center
The Medical Center is a not-for-profit Student Affairs unit that promotes healthy work and study environments by providing quality medical services to students, staff, and faculty. present.
Accommodation assistance (AAS)
The AAS provides assistance to students with disabilities (such as intellectual disability, sensory impairment, acquired brain injury or ADHD, in addition to students with mental health needs, and providing accommodation for them so they can fully participate in their learning experience at Ryerson.
III. EDUCATION PROGRAM
1. Professions training
Ryereson University has 68 different disciplines attracting a large number of students to study.
Featured programs:
Ryerson ESL Foundation English Program
Art
Communication and Design
Community Service, Engineering Science and Architecture
Science and Business
2. Training levels and entry conditions
Ryerson University offers a full program of study at different levels such as: undergraduate program, graduate program, college program in which graduate program includes master's and doctoral courses. More than 100 undergraduate and graduate programs and home to 38,950 students enrolled, including 2,300 masters and doctoral students, nearly 2,700 faculty and staff, and more than 140,000 alumni worldwide. gender. In addition, Ryerson University also offers a pathway through Ryerson University International College (RUIC), supporting international students to complete a Bachelor's degree in the shortest time.
Entry requirements:
High school diploma, GPA 8.5 or above (depending on majors)
Have IELTS 6.5 / TOEFL iBT 92 points. In addition, the school has an English program for students who have not yet met the requirements.
For students studying at colleges and universities who want to transfer to Ryerson, each case will be considered specifically.