The University of Prince Edward Island is one of the great options for those planning to study in Canada because of the excellent teaching quality, the modern and complete facilities, the experienced faculty, Graduates have high job opportunities.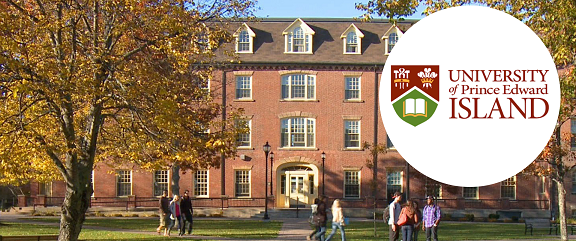 I. SCHOOL OVERVIEW
1. General introduction
Founded in 1969 in Charlottetown, but in fact, University of Prince Edward Island (UPEI) has a long history of more than 200 years by its predecessor Kent College (1804), University of St. Dunstan (1855) and Prince of Wales College (1860). The school is famous for teaching arts, education, science and veterinary science, business, nursing, engineering, sustainable design, and science in math and computing.
Prince Edward Island University has 4 faculties (Arts, Education, Science and Veterinary Medicine) and 2 schools (Business and Nursing) offering a variety of programs and degrees with 4,400 students. In 2016, the number of international students accounted for nearly 19% of the school's student population, from 70 different countries.
2. Facilities
The campus consists of 28 buildings and academic, administrative, residential, and sports facilities. The school is located in Charlottetown, 3km from the city center, just a 10-minute walk from the school building to the largest shopping mall in the city.
UPEI is the only current public university in the state of Prince Edward Island, once the richest state in the Canadian history, with a history of more than 200 years of construction and development, UPEI is not only spacious, but also also owns the most advanced classroom and research facilities in the world, to fully meet all the learning and living needs of students. In addition, the school also has indoor gyms, open to students free of charge: ice hockey, basketball court, swimming pool, squash room, gym, sauna …
In addition to the on-campus campus, life around UPEI is also very convenient and dynamic. The school is 3km from the city center, just a 10-minute walk from the school building to the biggest shopping mall in the city.
The main campus of the school includes 28 functional buildings such as lecture halls, administrators, boarding areas, athletics centers, … with the most modern equipment. Including the Marion McDougall building of the business institute, the Bill and Denise Andrew building, the WA Murphy center and many other spacious and modern buildings to maximize the entertainment and learning needs of students. .
II. AT STUDY SHOULD STUDY AT PRINCE EDWARD SCHOOL
– Salary internships are available to international students, and then get job opportunities through these internships.
– Low cost of studying abroad: Compared to other countries, studying in Canada at UPEI helps students save on studying abroad with many great benefits.
– Cultural diversity: UPEI currently has a very high number of international students from more than 70 countries around the world. Students have the opportunity to learn, exchange and learn about many different cultures.
– Excellent learning environment: With a team of experienced and dedicated teachers, UPEI has produced many excellent students with admirable achievements.
– After graduation, students receive the UPEI degree recognized worldwide.
* Outstanding ranking of the school:
– Is the oldest & only University in the Province of Prince Edward Island
– The University that receives the easiest credit transfer in CANADA
– UPEI is honored as one of the 10 best campus type schools in Canada
– UPEl is famous for many excellent scientific researches, training many international scientific research disciplines, from researching methods of processing dairy products to anti-cancer substances.
– According to Maclean's Magazine – Canada's leading university ranking magazine honored UPEl as 7th out of 19 best universities in Canada.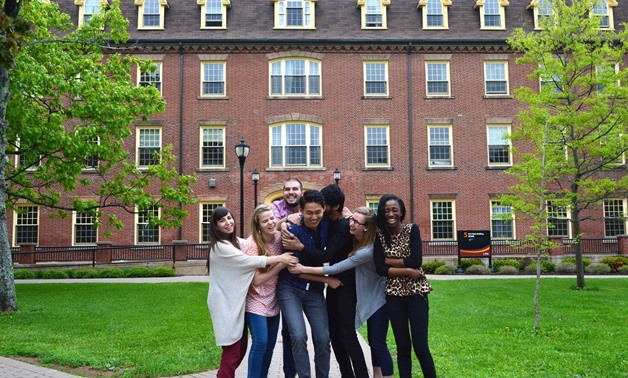 III. TRAINING PROGRAM / ENTRY CONDITIONS
1. Training program
– Bachelor of Science: Art, Engineering Sustainable Design, Science of Mathematics and Computing, Science.
Postgraduate majors include: Business, Nursing, Environmental Science, Veterinary Medicine, Health and Human Development, Island Studies, …
– Program English EAP (English Academic Preparation): students who do not have enough English proficiency will receive supplementary courses.
– Doctoral program in the fields of: environmental science, molecular science and macromolecule, veterinary medicine
2. Major disciplines
Faculty of Arts: Psychology, Sociology, Music, Journalism, Environment, Philosophy, Image Arts, Theater Arts …
– Faculty of Business: including Accounting, Business Relations, Marketing, International Business, Resort Tourism …
– Faculty of Education: Granting a bachelor's degree in adult education, training learners to become leaders, educating and training the second language.
– Faculty of Nursing: Bachelor of Science in Nursing.
– Faculty of Science: including fields such as Biology, Biotechnology, Chemistry, Informatics, Psychology, Wildlife conservation (Wild life conservation), Mathematics, Mathematical Probability Statistics …
– Department of Veterinary Medicine: Bachelor's degree in Veterinary Medicine.
3. Entry requirements
University program:
– Graduated from grade 12
– GPA 7.0
– IELTS 6.5
Post – graduate program:
– Graduate
– GPA 7.0
– IELTS 6.5
– Some branches require GMAT / GREE scores