The best places to visit in Canada are proof that the country has a heart bigger than its size when it comes to satiating the wanderlust of every type of traveler. There is a whole lot of destinations that you can visit in this second largest country in the world. Canada will mesmerize you with its vibrant landscapes, raw nature, and soul-filling culture. No wonder, people often flock to Canada for a dose of adventure and exuberance. Take a look at these places in Canada so that you know which ones you need to put on the top of your list!
Best Places To Visit In Canada In 2021 That Will Leave You Spellbound!
Jasper National Park
Canada's largest national park, Jasper National Park is also the world's second-largest dark sky preserve. That's where lighting and pollution are limited, so stargazers can see the night sky at its best. Any time is a good time to watch the sky, but Jasper hosts a night sky festival in October. If you prefer daytime activities, you can hike through alpine meadows, paddle a lake, soak in hot springs or mountain bike. In the winter, there's skiing and snowshoeing. Jasper National Park is a good place in Western Canada to spot wildlife such as black or grizzly bears (if you're lucky), mountain goats, cougars and wolves.
Churchill
Churchill, a small town with less than a thousand souls, is undoubtedly the biggest tourist draw in northern Manitoba, at least during the fall. That's when the polar bears move inland, giving Churchill the nickname, "Polar Bear Capital of the World." October and early November are good times to take in this polar bear migration, but boat tours along Hudson Bay take tourists to them in the summer. Sometimes, the bears wander into town where they're put in "jail" until they can be released back into the wild. July and August are popular times to visit also, since that's when thousands of beluga whales are migrating.
Vancouver

 
British Columbia's largest city, Vancouver, is a cosmopolitan city in the lower province. An important seaport, the city prizes its ethnic groups, with its Chinatown being the biggest in Canada and the second largest in North America. While in Chinatown, be sure to visit the shrine to Jimi Hendrix, who lived here. Stanley Park is a must-see with its seawall and beach activities. If you're not afraid of heights, dare to cross the 70 meters (230-foot) high Capilano Suspension Bridge, the city's most popular tourist attraction. The University of British Columbia's Museum of Anthropology is a great place to view totem poles.
Banff National Park
Canada's oldest national park, Banff, is chock full of awesome scenery. Set amongst the beauty of the Canadian Rockies, the park contains several beautiful lakes, including Lake Louise, the gem of the park, and the much-photographed Moraine Lake. As a year-round tourism destination, the park draws three million visitors annually; they come for winter sports, and summer hiking and camping. It's a good place to see glaciers, ice fields, and wildlife, including elk, deer, moose, and bears. The city of Banff, with plenty of accommodations and restaurants, is located inside the park. You can ride a gondola for stunning views or soak in the hot springs.
Quebec City: Explore The French Influence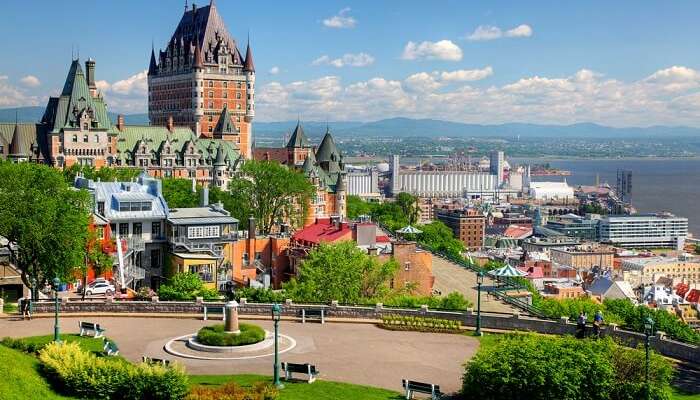 Renowned as North America's oldest walled city, and the most beautiful city in Canada and considered top Canada tourist places, which you must visit with your partner if magic, romance, and all things French is what tickles your fancy the most. Have an amazing time with your partner in the magical Quebec city. It is one of the most enchanting places to see in Canada because of art and cultural scenes.
St. John's: An Artist's Retreat
Popular for its jelly beaned & crayon-colored houses, and being an artist's retreat, St. John's is like a mini San Francisco. Considered as one of the best cities to visit in Canada, you can explore the city with an open heart. Despite being the oldest city, the vibe of this place is as refreshing as that of any metro town, which is perfect for any of your holidays. Also, do not miss Water Street when you are here!
Niagara Falls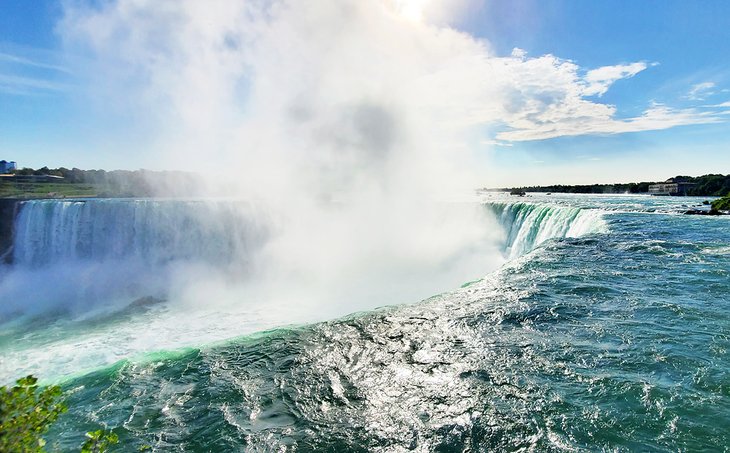 Niagara Falls and the Niagara Gorge have been attracting tourists and daredevils for well over a century. Between the mid-19th and mid-20th centuries, there were numerous attempts to plunge over the falls in various types of homemade boats and barrels. This, along with tightrope walkers and other spectacles, led to the adjacent town of Niagara Falls developing a carnival-type atmosphere that still persists today. Families will enjoy a walk down Niagara's outrageous Clifton Hill leading to the gorge and falls.