Vancouver is an outdoor enthusiasts playground, with three world-class mountains all within a 15-minute drive from downtown, hundreds of parks and campsites, thousands of hiking trails, one of the worlds longest seawalls and countless rivers and lakes to explore. There is an endless list of things to do in Vancouver Canada, with an activity for every age group and suiting all interests, but there are only so many hours in a day, so here is a great list to get you started.
Awesome things you absolutely must do in Vancouver, Canada
Keep warm in the 'garden under glass': Queen Elizabeth Park's Bloedel
Even if it's raining outdoors, being at Queen Elizabeth Park's Bloedel Conservatory will keep you dry while feeling like you're actually outdoors. Sheltered by the second largest dome greenhouse in the world is a tropical garden with more than 500 varities of plants and 120 colourful, exotic birds flying freely. On a chilly, rainy day, this safe haven keeps the whole family thrilled and tropical warm.
Be mesmerized by the water creatures at Vancouver Aquarium
A Vancouver highlight that's not to be missed, the Vancouver Aquarium features a myriad of aquariums of stingrays, fish, jellyfish, octopus, sharks, otters and penguins, and even live dolphins. There are also a number of exciting shows starring dolphins, porpoises, and penguins among others, and a 4D theatre for an immersive underwater experience. It's easy for visitors of all ages to spend a whole day here admiring the beautiful creatures.
Savour the view at Top of Vancouver Revolving Restaurant
The best part of Top of Vancouver is the spectacular sweeping views of the mountains, the ocean and the cityscape, with a side of fine dining. Located 553 feet high, the chilled out ambience of this upscale restaurant is perfect for a unique Vancouver-style date with the loved ones. You may not want to expect too much when it comes to the food, though it's on the pricier end with pasta and meat priced between 20-40 USD and seafood between 30 – 60 USD, but the scenery almost makes up for it.
Grouse Mountain
Just 15 minutes outside of Downtown Vancouver is Grouse Mountain. You can drive or take the bus to the mountain and if you aren't afraid of heights jump on the a cable car (the Skyride) all the way to its peak; which is more than 1,200 m (4,000 feet) above sea level. You can enjoy a number of activities on Grouse Mountain such as have a snow ball fight with your friends at the top (if you visit in the early spring), take a dare devil zip line tour or further down the mountain visit the grizzly bear habitat.
Grouse Mountain
This is a really fun place to go visit. Best known for the Grouse Grind – a straight up the mountain stair master, it is part ski hill, skating rink in the winter, and in the summer becomes a playground of ziplines, and hikes. It is well worth the cost going up and down. We preferred going in the summer with an active toddler. It is easily accessible to get to on public transportation. You can bring a picnic as well as buy food up there. The line ups can be long, but go in the middle of the week and in the morning.
Granville Island
What is it: Overhauled in the 70s, this former waterfront industrial site (technically a peninsula rather than an island) is home to a public market, food shops, restaurants, artist studios and galleries, shopping and inviting green space.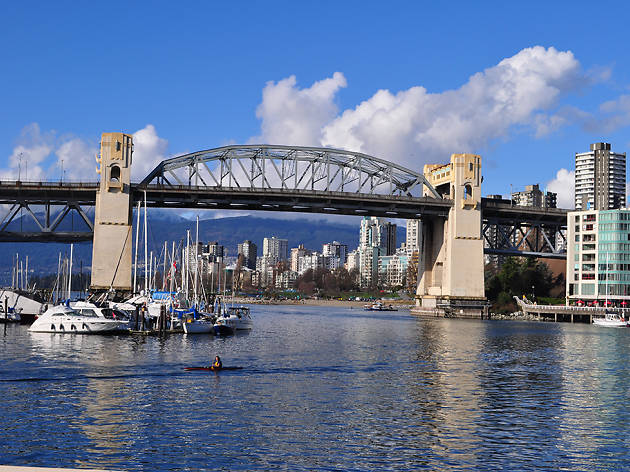 Why go: Take a cute little Aquabus to spend an afternoon on the island. The vast public market features everything from confections to cheeses to bread to meats. Pick up a few items and picnic next to False Creek, or indulge in the market's food court, filled with delicious local eats and treats.
Take a Drive up the Sea-to-Sky Highway
Rated as one of the most beautiful drives in the world, the Sea-to-Sky corridor takes visitors on a 1.5-hour long journey, from the heart of downtown Vancouver to the world class ski town of Whistler. With waterfalls, jaw-dropping vistas, a stunning cultural center, and a suspension bridge along the way, you'll want to pack a lunch, your camera, and gas up the rental car, because this journey is one you won't want to miss.
Hike the Grouse Grind
There is no better way to become an honorary Vancouverite (yep, that's what they're called), than to earn your stripes on the Grouse Grind. Nicknamed "Mother Nature's Staircase", this is no Sunday stroll. Located on Vancouver's North Shore, at the foot of its namesake (Grouse Mountain), the Grind as it's affectionately known takes hikers some 850m up through the alpine. Once you reach the top, a panoramic chalet awaits with ice-cold drinks and sweeping views of the city. And once you've recovered, save those wobbly legs from further torture and enjoy a scenic ride down the mountain on the Grouse Gondola.